kayMMV

OVERVIEW
kayMMV is a Twitch streamer who enjoys streaming all kinds of casual games and interacting with her audience. I worked with her to create this set of graphics for her channel: a profile picture, banner, offline screen, and panels.
The client wanted the graphics to feature a cute and cartoony cat astronaut in space. She provided me with a short brief outlining her inspiration and ideas, as well as some sketches of how she envisioned the cat astronaut.
CHALLENGES
This project was pretty straightforward with no major challenges as the client had a pretty good idea of what she was looking for. She gave me a lot of feedback during the design process, from which I made changes until she was satisfied with the final version.
LET'S EXPLORE
As the cat astronaut is featured in all the graphics, the priority was to come up with his design first. From the sketches provided, I felt that #2 looks more endearing and would work better to draw in viewers. It was also simple enough to be readable when sized down as a profile picture.
I altered the cat's overall shape and facial features to make him look even friendlier, while the client suggested a space patch on his arm to add some depth to his appearance.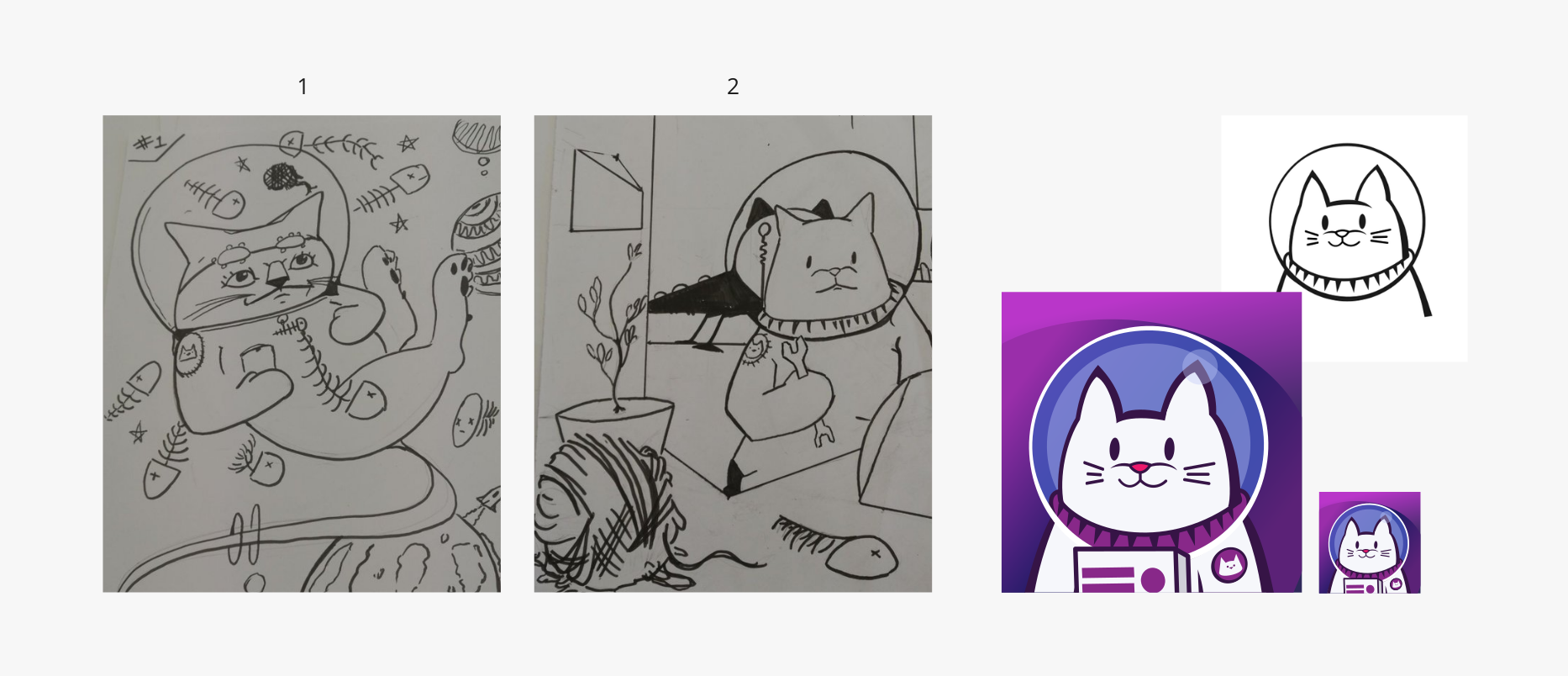 THE FINAL
With the cat astronaut finalized, we moved on to the banner. Here, she wanted the background to be of space, filled with stars, planets, and maybe a couple of spaceships. The cat would be in front, standing on a moon and placing a flag with a fish on it. Her Twitch name should also be included, and the client chose the font (called J-LOG Rebellion Serif) herself.
Next for the panels, she requested for the cat astronaut to be in different poses for each of them. For example, him holding a food bowl and the most interesting one — barbequing the Twitter bird.
Finally, I based the offline screen largely on the client's sketch, but replaced the spaceship with a window looking outside into space instead. The main focus was to make the room feel homely, but not too cluttered so as not to overpower the cat astronaut and text.